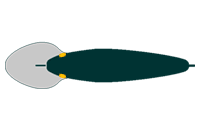 Aboriginal name
Another fishing lure that owes its name to Australian Aboriginal culture. Woomera is the name for a specially shaped stick used for throwing spears, and a place in South Australia where there used to be a rocket range. Another of our lures, the Jindivik, has a connection with Woomera too.
Build quality
Built strong with a thick-walled ABS body, ultrasonically welded together after heavy-duty eyelets and rattles are installed, and presented with Predatek's quality paint finish and great spectrum of colours, Woomera draws attention from a wide variety of predators.

Tow from the nose
Woomera tows from the nose (like the Viper). It has large eyes, and a slim, contoured body to provide good hook exposure. Ruggedly designed, yet nimble, the Predatek Woomera generates a strong, vibrant action radiating from slab-like sides. It's designed to closely mimic the erratic behavior of a frantic baitfish.

Its hi-vibe action and wake-em-up rattle makes enough underwater noise to ring the dinner bell for predators. From slow crank speeds all the way up to 5 knots on the troll, Woomera will entice fish that are on the prowl.

Mangrove creeks
Although designed for the tropical mangrove creek scene, it works well on southern saltwater species, and goes deep enough to be a proposition for large native species in rivers.
Our friend, Vic McCristal (1928—2015), the doyen of Australian outdoor writers, was a strong supporter of our lures from the start back in 1986. We asked him to nominate his favoured colour scheme for the creeks around Cardwell and Hinchinbrook Island, This is what he came up with, and we named it 'McSea' in his honour. Vale Vic.
barramundi, Murray cod, golden perch, saratoga, barramundi, mangrove jack, estuary cod, flathead, tailor, trevally
Papuan black bass, spot-tailed bass, northern pike
This Woomera in the popular Jabiru (JB) colour scheme has done a few rounds in tropical mangrove creeks with mangrove jacks, cod, and fingermark
PNG field tester Andrew Smith used a Woomera in Jabiru (JB) colours to lure this Bensbach River saratoga