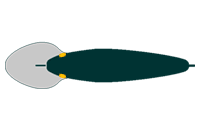 Origin of the name
Jindivik is an aboriginal word meaning the hunted, and was the name given to a pilotless aircraft used as a missile target at the Woomera rocket range in South Australia.

Jindivik is different! It has a unique and radical bib design that imparts a narrow rock 'n roll action. One of our competitors remarked that it would never swim, when he first saw the prototype. Just shows how wrong you can be and how thinking outside the square can produce a result.
Consistent
Since launch in 1994, Jindivik has been a consistent and strong seller - particularly in the northern Australian tropical scene.

Performance
Want a fishing lure that casts like a bullet and tracks straight and fast? Jindivik delivers with its aero- & hydro-dynamic profile.
Your baits have own person, as it speaks in Russia, especially Boomerang and Jindivik. Your baits is confirmation of your words: 'Predatek prides itself on doing its own development of designs'.
I think, your firm is the bright representative the person, the Australian school of design and manufacture of crankbaits. I have received 10 Predatek's crankbaits from Saint Petersburg (EcoFish). The lures of Predatek are looked
better alive, than on pictures. Colors are brighter!
My friend has told: "The more I look at them, the it is more they like to me! ". Here is my picture with the favorite Jindivik.
George H. - Saratov, Russia
barramundi, mangrove jack, flathead, bonito, tailor, mackerel, small tuna, trevally, mahi mahi, Murray cod (creeks)
barracuda, mahi mahi, rainbow runner, bluefish, tiger fish, northern pike