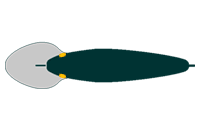 Well designed
It's just one of those fishing lures that does everything right!

Casts like a bullet

Trolls fast and straight

High frequency vibrant action

Catches a wide range of fish

Rugged bib
Tough as nails with an enduroShok bib.

Versatile
A versatile all-rounder. Just the right size to appeal to a wide range of predators, and equally at home in freshwater, estuaries, or trolling out at sea.

Speed
How many bibbed fishing lures can handle 7 knots plus troll speeds among a pattern of skirted lures?
Black-tipped reef shark caught on a Predatek S85 Spoonbill—in Metalix Chrome (XC) colour—weighted with a sinker and jigged over coral reef.
Murray cod, golden perch, bass, sooty grunter, barramundi, estuary perch, flathead, mangrove jack, trevally, estuary cod, bonito, dolphin fish, mackerel tuna, longtail tuna, Australian salmon, tailor, rainbow runner
trout, salmon, largemouth bass, smallmouth bass, pike, walleye, Papuan black bass, striped bass
The Spoonbill is an excellent lure for mangrove Jacks. This one took a Spoonbill in the classic Barra Blue (B) colours. The New Britain black bass below took a Kakadu Tiger (KT).