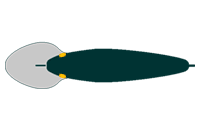 Split personality!
The Woomera Skitzo is a fishing lure with two personalities.

It can be throbbing through the water with a wide action. After a switch of tow-point position, it can be wriggling deeper with a narrower action.

Two lures for price of one
The Woomera Skitzo has two slots on the enduroShok bib for the stainless steel tow-plate. By moving the towing plate from one slot to the other you can have two lures for the price of one.

The front (1) slot makes the lure vibrate quickly and dive deeper (up to 4.5 metres). The rear (2) slot gives a wide action and moderate depth (up to 3 metres).

Simple concept - good result.
In fact, the rear-slot action is very wide and attractive to native fish like golden perch and Murray cod. This is handy in rivers and streams where deep-diving ability is not so important.

NOTE: The W90 & WS90 share the same body type and colour schemes. Hence the eyelet on the nose of the WS90 is non-functional. It works only on the W90.
How do you change the action?
Use a pair of split-ring pliers

Remove the split-ring from the steel tow- plate

Slide the tow-plate out and into the alternate slot

Re-attach the split-ring to the tow-plate
barramundi, Murray cod, golden perch, sooty grunter, mangrove jack, estuary cod, flathead
largemouth bass, walleye, pike perch, zander