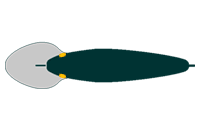 Big fish
Viper is a big fish lure. The head is bulky to simulate a large baitfish and the tail is slim to maximise hook exposure.

Purpose-designed action
In the water, Viper sends out fish attracting vibrations, and noise from its rattle chamber. The action is narrow, rock 'n roll, as preferred by many barra experts.
​
Export
The Viper fishing lure has been one of Predatek's most successful exports, finding favour with anglers who chase big predators in the northern hemisphere.
"Hi, Predatek.
I finally get around to sending you a couple of photos of the fish that I caught on the Vipers.

Was an excellent trip and landed over 400 fish in 6 and a half days. I spent the last day fishing only Predatek lures, my guide gave me a funny look when I tied one on and commented "not sure if them will work up here" .
Well, we didn't troll but about 20 meters and I hooked what was to be "too many to count" Lake Trout that day on Vipers. The next afternoon before boarding the float planes to take us home many of the guests that were at the same lodge as myself were asking all kinds of questions concerning the Vipers as my guide had told everyone how well I did with the Lake Trout on them.
Gene Hackinson - American in Canada
Expert choice
Neil Schultz, well known fishing writer, rates Viper his number one lure for big barramundi. Neil's results helped Viper earn an enviable reputation for performance in Queensland impoundments.

Using a Viper, Neil captured one of the largest barramundi (35kg - 77lb) ever caught on a rod and reel at Lake Tinaroo in N. Qld. It was a record that stood for two years.
"Why the Predatek Viper's so successful as a trolled lure for barramundi, I do not know. What I do know is they eat it with monotonous regularity. So, consequently, when I'm targeting trophy barra (over 20 lbs) I use Vipers on a regular basis. A top investment when big barra are the quarry."
John Mondora (Fishing Writer)
barramundi, Murray cod, yellowfin tuna, longtail tuna, kingfish, spanish mackerel, mackerel tuna, tailor, fingermark, XL flathead
striped bass, Papuan black bass, northern pike, perch pike, lake trout, salmon, sailfish (Singapore!)