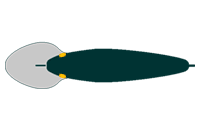 Shallow water special
SandViper is built to generate hot action in skinny water. Its unique shape, wake-the-dead rattle, and rock 'n roll action are fatal attractions for surface busting predators of every kind.
​
FACT: Sandviper was developed at the request of a distributor in the USA who wanted a shallow-running Viper for salmon and pike.
Day or night
Since 1996, Predatek's Viper fishing lure design has taken thousands of trophy fish around the world. The SandViper variant hunts the skinny water and silhouettes against the surface in moonlight or bridge lights where big fish lurk.
Tough
Using Predatek's proven enduroShok bib , SandViper takes the rigours of fishing around structure and rocks, and the savage strikes of trophy fish in its stride. It may be destined for a tough life but our enduroShok bib will keep your SandViper in the hunt.
That's Maximum Efishency at work.
Cast or troll
SandViper's aerodynamic shape and weight are great for casting. It slow dances to a Striper, Tarpon, Snook, and Barra beat, or tracks at 7 knots behind your boat to excite pelagic game fish.
​Maximum hook exposure
SandViper looks like a fat baitfish, but when fish hit the tapered body it's all hooks; three 1/0's - strong and sharp.
(2 x #2/0 hooks available on S150X model)
Rock 'n roll action
Combines a tight wobble and rolling movement for a fluid, weaving action. Twitch, rip, or swim it—and hang on!
"Is there still an unknown lure? It seems to be. I was with a few German and Dutch fishing journalists fishing in 'giant' lake in Norway. This Tyrifjord is a great pike lake with a really enormous amount of pikes.
​
I met a Norwegian fisherman there (Terje Anderson ) who also had a website. I really asked him everything about pike fishing in his area because I wanted to score in his country. He told me about very good lures for his lakes.
​
He offered me in Norway a few Predatek lures. In Holland I never had heard from the brandname Predatek. Now I have fished with it and caught a lot of fish. For us as sportfishermen we hope this lure will make his way to Holland. The first impression is always the best and that is with these lures absolutely good.
Pim Pos, Zandam, Holland
Northern pike caught by Pim Pos on a Sandviper in Cicada (CD) livery
The Sandviper was designed as a shallow water variant of the legendary Viper that has taken so many trophy-sized barramundi. But it doesn't stop there. Team Predatek's Dylan Smith caught this skinny water New England Murray cod on a Sandviper Kakadu Tiger (KT) twitched over weed beds and submerged rocks in the middle of the day. Have one in your tackle box for such situations.
barramundi, Murray cod (in shallows at night), mulloway, cobia, longtail tuna, yellowfin tuna, GTs, kingfish, mackerel, tailor, salmon, XL flathead
striped bass, red drum, bluefish, snook, musky, pike, king mackerel, tarpon