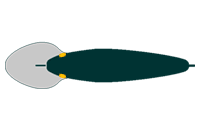 Shallow water special
SandViper Xtra is built to generate hot action in skinny water. Its unique shape, wake-the-dead rattle, and rock 'n roll action are fatal attractions for surface busting predators of every kind.
Day or night
Since 1996, Predatek's Viper fishing lure design has taken thousands of trophy fish around the world. The SandViper variant hunts the skinny water and silhouettes against the surface in moonlight or bridge lights where big fish lurk.
These are the differences between the standard Sandviper (top) and the Sandviper Xtra. NOTE: Luminous bibs no longer available.
Cast or troll
SandViper's aerodynamic shape and weight are great for casting. It slow dances to a Striper, Tarpon, Snook, and Barra beat, or tracks at 7 knots behind your boat to excite pelagic game fish.
​
Maximum hook exposure
SandViper Xtra looks like a fat baitfish, but when fish hit the tapered body it's all hooks - two big 2/0's—strong and sharp.
(3 x #2 hooks as per standard Viper are fitted to S150 model)
Rock 'n roll action
Combines a tight wobble and rolling movement for a fluid, weaving action. Twitch, rip, or swim it - and hang on!
barramundi, Murray cod (in shallows at night), mulloway, cobia, longtail tuna, yellowfin tuna, GTs, kingfish, mackerel, tailor, salmon, XL flathead
striped bass, red drum, bluefish, snook, musky, pike, king mackerel, tarpon