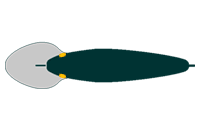 Big barramundi
HyperViper Xtra is based on Predatek's renowned Viper - arguably the hard-bodied fishing lure most frequently relied on by anglers targeting big barramundi in Queensland's lakes..
Noel Ritchie caught an 8kg class IGFA world record barramundi of 27.85kg on a Predatek Viper in Red Head ('qantas') colours in Lake Tinaroo. OCTOBER 2000
HyperViper Xtra is identical to the standard HyperViper except for its hardware which is extra heavy duty and two hooks instead of three.

HyperViper has been developed in response to angler demands for a Viper that probes the 8-10m band when large predators hold at depth in summer.

Casting
It's unlikely that you can cast far enough to allow HyperViper to reach its maximum running depth. However, its fast descent still comes in handy when you're casting to steep-sided structure like rock walls and along log studded banks. HyperViper's retrieve resistance is moderate so you can cast longer with less fatigue.
Trolling
HyperViper is designed for trolling. It has the Viper's classic rock 'n roll movement and wake the dead rattle incorporated in a more vibratory action. This is a fast-tracking lure that can handle 8 knots in search of pelagic predators like tailor, tuna and mackerel.

Even if you don't need HyperViper's ultimate depth ability, you'll appreciate being able to troll it on a shorter line, closer to your boat, when following rocky shorelines—between the standing trees at Copeton, for example, or winding river channels in 3-5m of water.

Maximum running depth is dependent on a variety of factors.

DUAL tow-points Dual action
Versatility! Tow your HyperViper from the nose or the bib tow-point. From-the-nose gives a strong action and faster descent (handy when casting towards the bank from a boat). From-the-bib gives more depth, faster trolling and less retrieve resistance.
barramundi, Murray cod, yellowfin tuna, kingfish, mackerel, tailor, fingermark
striped bass, Papuan black bass, northern pike, lake trout, salmon