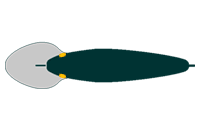 Low drag
Having a small bib and compact body, the B65S Boomerang is good to cast and easy to retrieve.

All rounder
A good fishing lure for medium sized sportfish like bass, golden perch, mangrove jack, and flathead.
Rivers and shallows
Mainly used in rivers where deep diving ability is not required. Will achieve its maximum depth when trolling with light lines (up to 4kg).

Hop over cover
Cast around sandflats for flathead. Let it rise above sea grass beds, wind slowly across the top, then faster to dive again after clearing the sea grass.
bass, golden perch, Murray cod, , redfin, sooty grunter, jungle perch, flathead, mangrove jack, trevally
largemouth & smallmouth bass,
salmon, trout